Green Guide: Creating an Eco-Friendly Wedding Registry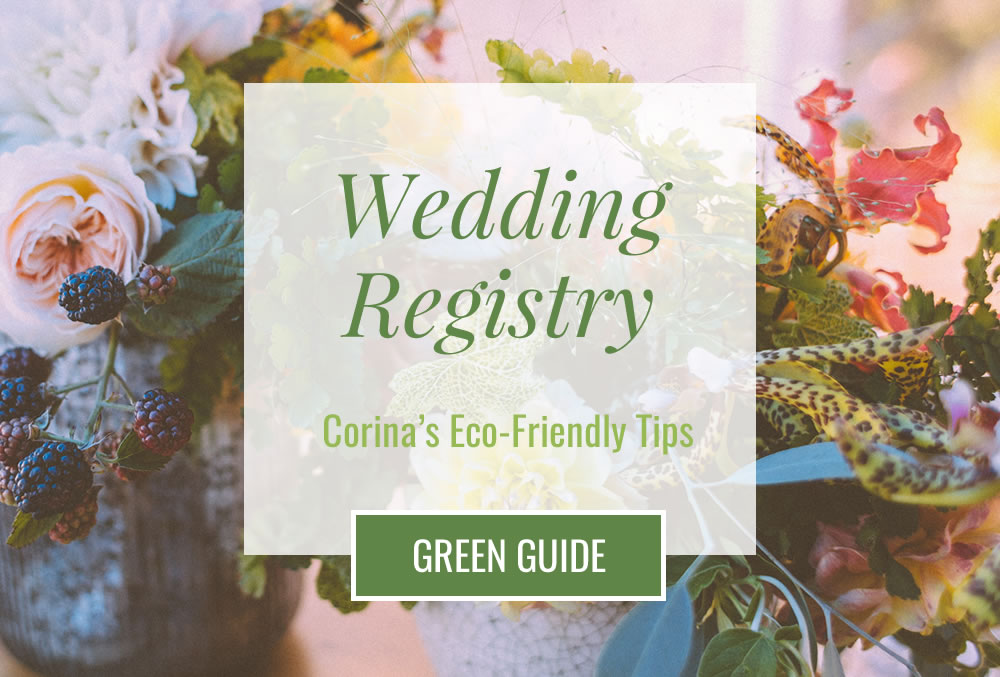 The wedding registry was originally designed as a simple way for marrying couples to track their gifts at the department store or gift shop. While this tradition still goes on today with traditional registry items like china, cutlery, bakeware, and bed linens… more and more couples are taking an unconventional approach to their wedding registry.
Because wedding registries draw consistent business, we can find a wedding registry just about anywhere‐‐ from home and garden centers and specialty stores, to your local art dealer and camping and recreational sport chains. With the growth in the green economy, there is even more good news, many new online stores catering to the needs of the eco‐conscious couples have registries available.
How to Create a Green Wedding Registry
Choose wisely – A wedding registry allows you to narrow the selection of gifts your guests might purchase to only the ones you request. Decide what you truly want. If your lifestyle is more casual, do you really need a fancy crystal punch bowl? Though some might find traditional wedding gifts over the top, there's nothing wrong with planning for the day when you might appreciate such item.
Support the green (and local) economy – It may take a little digging, but you can probably find just about every new product you want in an organic, or local version. From organic cotton sheets, to recycled glass wine tumblers, to natural rubber yoga mats, and artisan pottery on your local main street, there are plenty of eco‐fabulous product offers for you to choose from today. Ones that will support what you care about instead of just giving money to the big box retailers!
Green Gift Registry Musts
Organic cotton linens — Organic cotton flannel sheets are perfect to get cozy with in the winter and keep your sensitive skin away from harmful pesticides and dyes.
Home recycling center — Make your home recycling a snap with a standalone system designed for compacting your recyclables to minimize your trips to the garage. While you're at it, throw in an automatic composter — easy to use, odor free, proving you with an endless supply of compost, for you and your neighbors!

Natural rubber mattress — We spend a lot of our life sleeping, and since that is when most of our body's regeneration happens, wouldn't it be nice if we slept on a healthy product? Natrual rubber comes from trees, not oil, and is extremely durable, flexible and resilient. These mattresses can almost last a lifetime!
Water purifier — Support your healthy, clean and green lifestyle by getting off bottled water. Have you friends and family support you with the purchase of a state of the art water purification system for your faucet.

A year's supply of organic produce from your local farm –  This is a great way to nourish your fresh, seasonal, and organic eating habits, and your favorite family farmer at the same time. Create a fund through PayPal to pay for your year's subscriptions for your CAS (Community Supported Agriculture) produce box. Enroll in a program that has a produce box delivered to you weekly! YUM!!
Energy-efficient appliances – Upgrade your washer, dryer, dishwasher, and fridge (if you need it) with a new energy efficient, and water efficient appliance. These are called "smart" products, because of their ingenious ability to use resources well!

Family heirloom — It doesn't have to be a new product to be meaningful. Ask your family to gift you something that has been a part of your family for generations and is part of your heritage. As you start your new family, it will be a beautiful gesture and a valuable memory to be gifted
Set‐up a charity registry — If you've been living together awhile, you might have all the household items you could need at the moment—give or take a new bathrobe or two. So in lieu of new stuff, consider asking guests to contribute to your favorite nonprofit or cause on your behalf. It's amazing how much money you can raise this way!


TIP: Reduce the amount of packaging your gifts come in by asking guests to skip the wrapping paper. You can tell them nicely on your wedding website, or suggest that if they must wrap it, to use newspaper, or other creative and conscious wraps.