Real Wedding: Berkeley Brazilian Room with Michele & Adam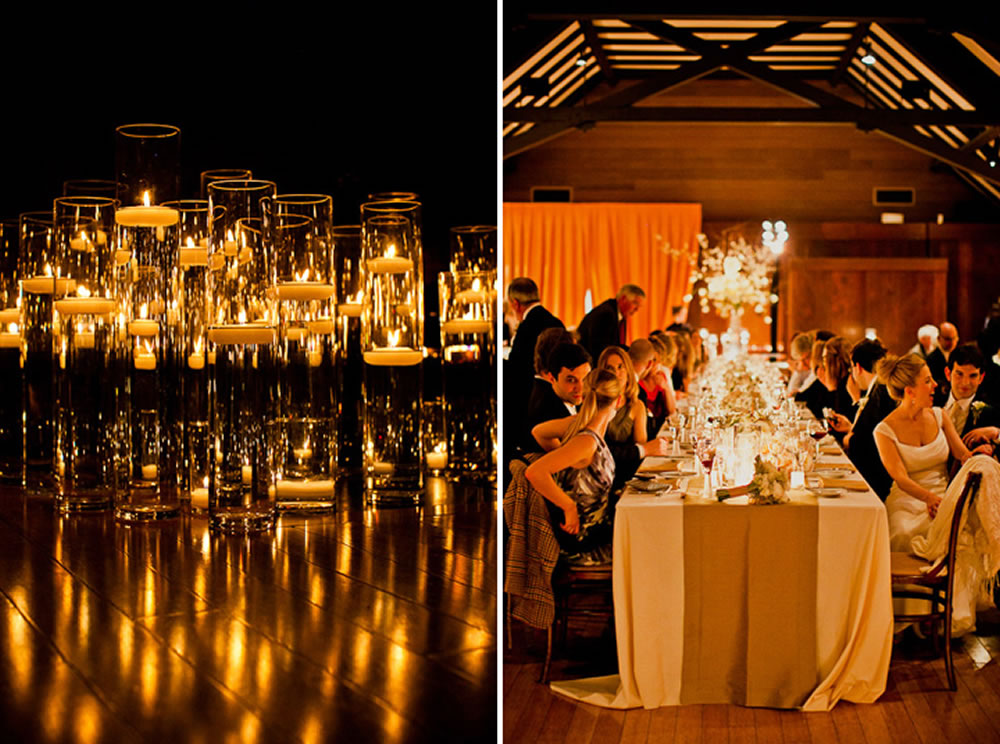 Most wedding planners will tell you that new mom's that work full time jobs, are a force to be reconned with when planning their weddings, and Michele was no different, other than being a doctor! (WOW) Her February wedding snuck up on her, and she and Adam needed to make plans happen quickly. They hired us to curate a sophisticated and thoughtful celebration at the Brazilian Room in Tilden Park, Berkeley. We went with a pallet of winter warm whites, with gold accents and pops of orange citrus, a classic that Waterlily Pond executed on incredibly. Though we planned for a wedding ceremony inside if needed, we were lucky to be able to have the 4:30 pm ceremony outside. With some hot cider in hand, the guests remained cozy.
We went against traditional Brazil Room layouts, and created long dining tables, layered in white and shimering gold linens, and lined with hundreds of candles, white and caramel roses, cherry blossoms, with pops of cumquates. The buffet in the back featured a 4ft arrangement of branches, and the citrus orange curtain seperated the florecent lit back hall, creating a more intimate event space for us to enjoy.
Back to Earth Catering (how we miss them!) was amazing to work with for this Farm to Table winter meal. Always keeping vegetarians in mind, with complex appetiser items like "pulled" kind trumpet mushrooms on risotto cake, celery leaf, sorrel puree and a kumquat chip, their dinner buffet of cocoa-disted top soirloin and roasted anaheim chile romesco, and stout-braised short ribs with pearl onions, had guest screaming for more!
Event Planning:  Corina Beczner of  Vibrant Events by Corina Beczner // Photography: Mary McHenry Photography Venue:  Brazil Room in Tilden Park , Berkeley // Flowers: Natasha Lisitsa, Waterlily Pond // Cake:  Nora Del Chamberlin, Berkeley // Catering:  Back to Earth Organic Catering // Dress: Amy Kuschel //Hair & Makeup: Raina Antle // DJ:  DJ Dukes // Ceremony Music:  Conservatory of Music, SF // Linens:  La Tavola Fine Linens, Napa